We were so much looking forward to this day and and now it is happening!
From today on we are finally able to show you the first art behind the Waxel World.
I have the honor to introduce to you Luke the Lumberjack!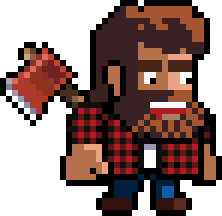 He is our very first of 7 professions in total that will accompany you on your journey in the Waxel World.
With Luke you will be able to gather wood from the forests that other professions will be able to refine and use for crafting items.
Of course Luke also joined our Discord server as an emoji 😉
PS: Stay tuned for further news regarding the Waxel World