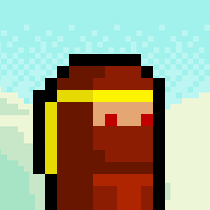 The 250 Waxel Ninja Avatars have been our very first drop which took place on June 26th 2021 on NeftyBlocks.
At the time of the sale we have been a pretty small community with just a couple members in Discord and to our own surprise all avatars have been bought in just a couple of hours. Because of that the only way to get your hands on one of these avatars is to use the secondary market AtomicHub / NeftyBlocks.
The Waxel Ninjas Avatar NFTs will forever be our number one and holders of it will have special benefits here and there along the way of this project.
Every avatar is a 1/1 unique based on traits that are described further down below.

A whitelist place on all big upcoming sales
Airdrops here and there
The Discord role "Waxel Ninja Clan" will be assigned to members that use their Waxel Ninja Avatar as their profile picture

Members with that role get access to a private Discord channel with special insights and news

Display of your Waxel Ninja Avatar on a big sign post next to the Housing area in the Waxel World
Special unpredictable things 😉
In order to be eligible for the benefits, you will need to hold at least 1 NFT from the waxelavatars schema
As all avatars are already sold out, you can only get one via contests and giveaways (we still got some left for this purposes) or by buying one on the secondary market AtomicHub / NeftyBlocks

Attributes
| | |
| --- | --- |
| Trait | Attributes |
| Race | Human / Orc / Undead / Elf / Demon |
| Eyes | Brown / Green / Blue / White / Red |
| Headband | Grey / Orange / Blue / White / Yellow / Green / Purple / Red |
| Accessory | Conical Hat / Kitsune Mask / Oni Mask / None |
| Suit | Grey / Orange / Turquoise / Red / Blue / Pink / Green / Purple / Yellow / Black |
Rarities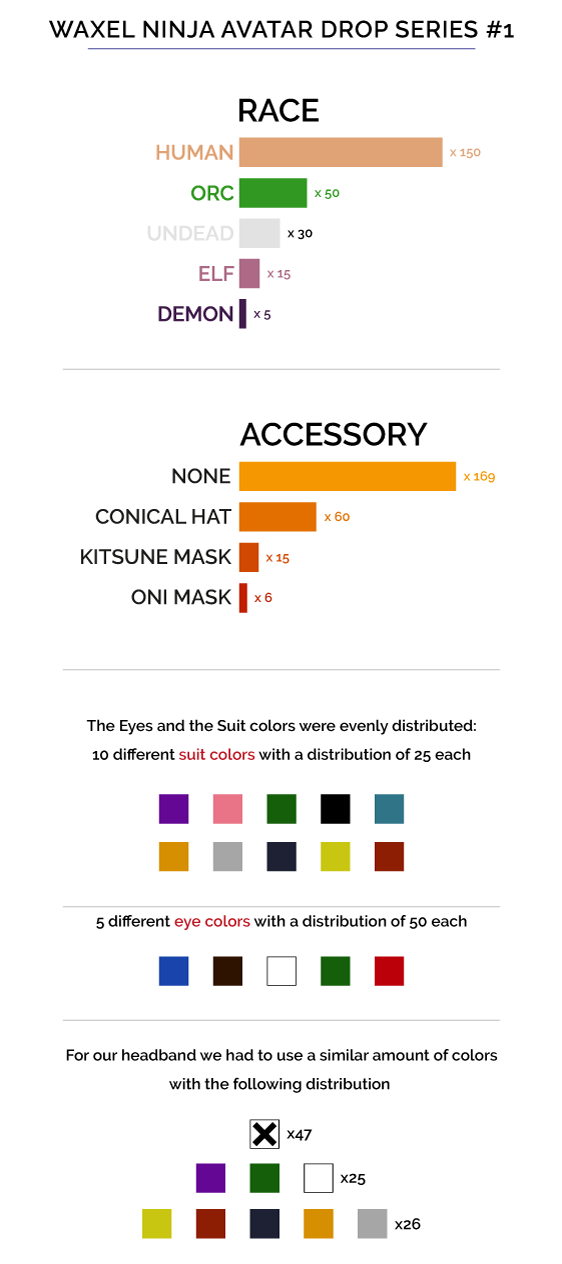 The sale went amazing and almost flawless!
In less than 7 hours every Waxel Ninja Avatar has been purchased for $9.90 and already found his new home within the next 24 hours.
We could see lots of happy new holders showing off their brand new Waxel Ninja Avatar in our Discord #showcase channel and also using them as their personal avatar on Twitter or on our Discord server.
All Waxel Ninja Avatars were generated offline with randomized unique assets and got a random number assigned (from 1 to 250).
Within the purchase-phase every seller was able to buy placeholder NFTs which also had numbers from 1-250 assigned.
These placeholder NFTs could neither be traded nor burned, so for example placeholder #15 was linked to Waxel Ninja Avatar 15.
Right after we were completely sold out, we started minting and sending out all the Waxel Ninja Avatars in batches to the buyers.
We had some hassle when we ran into an upload-limit on AtomiChub but were able to figure out an alternative solution within short time.