If you want to buy an NFT, like our Waxel Ninjas, on the WAX blockchain it's mandatory to have a wallet that is supported by AtomicHub, which is the interface for NFTs on the WAX blockchain.
When you visit WAX.Atomichub for the first time you can select one of three wallets to be connected to Atomichub. There are 3 different wallets available for you. In this guide we will talk about the WAX Cloud Wallet which works absolutely fine and of course is beginner-friendly.
Wax Cloud Wallet (recommended for new users)
The Wax Cloud Wallet is probably the easiest way to connect to AtomicHub. You can create your free account just within a few seconds. The following options are available for the registration-process:
Facebook
GMail
Steam
KakaoTalk
Reddit
Line
E-Mail & Password
After confirming your account you can login and have access to the dashboard: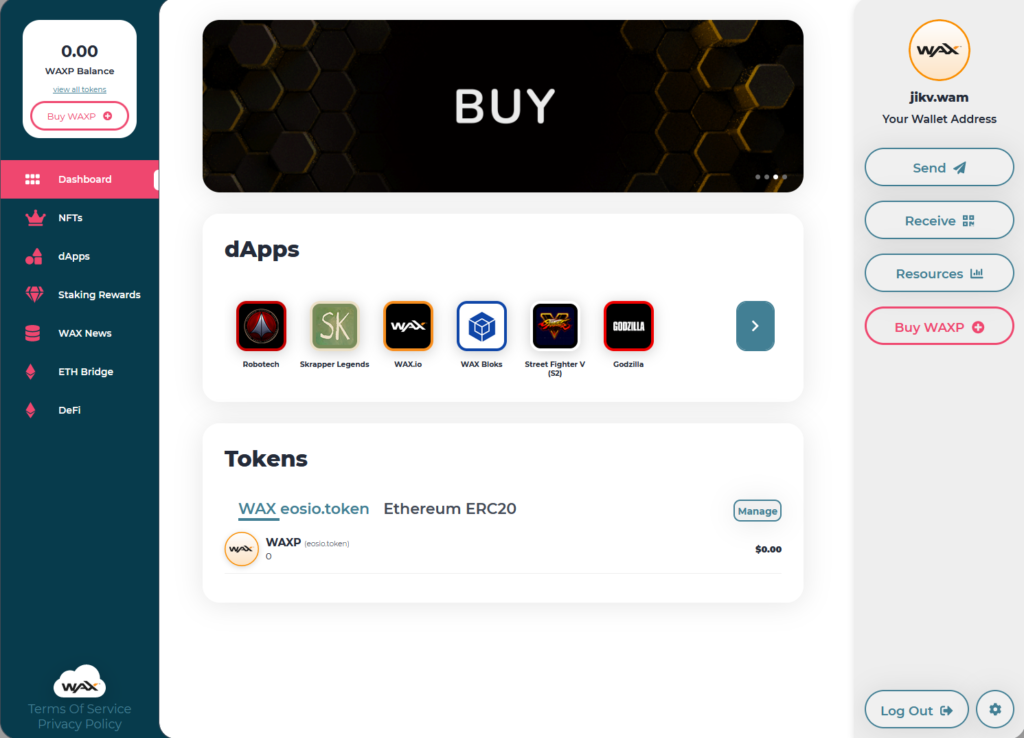 There are several options for you available. You can take a look at your NFTs (as soon as you own any), send or receive tokens and of course find your wallet address in the right upper corner. In this example it is jikv.wam
If you want to buy NFTs on AtomicHub, your next step might be to buy WAXP (the currency used on AtomicHub) with one of the following exchanges or merchants:
Video Guide – How to set up a WAX Cloud wallet:
Not Enough RAM?
To be eligible to transform transactions on the Wax blockchain you probably have to stake a little amount of WAXP for RAM in your Wax Wallet. You can perform this by clicking on "Stake More Tokens" on this page and select "RAM" from the dropdown.
Buy WAXP on a crypto exchange
There are several exchanges where you can purchase WAX, for example on Crypto.com or Binance.com – two of the world's biggest crypto exchanges.
BINANCE.COM
On Binance you can find the following trade-pairs: WAXP/BTC, WAXP/USDT, WAXP/BUSD and WAXP/BNB. After trading one of the previous pairs you can withdraw the waxp from your binance wallet to a wallet you can use on AtomicHub/Neftyblocks: WAX Cloud Wallet or Anchor Wallet.
The network fee from Binance is about 1.5 WAX and the minimum withdrawal amount is 3 WAX.