If you want to play the Waxelworld NFT game to earn in-game NFTs, you will need your own Wax Wallet (You can find out how to create a Wax Wallet here: "How to create a Wax Wallet?".
For purchasing a Waxel Ninja on our official drop or on the secondary market you will need the WAXP/WAX cryptocurrency in your wallet. In this guide you will find out how to get WAXP to your wallet using an exchange platform like Binance, Crypto.com or one of the other possibilities you have. We will also cover merchans like Moonpay or Simplex.
Buy WAXP on Binance.com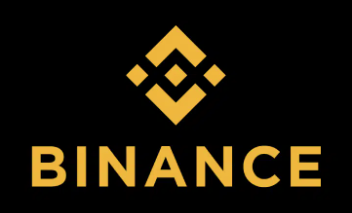 Binance is one of the biggest exchanges worldwide. You can buy more then 600+ cryptocurrencies on Binance. WAXP is one of them. To be eglible for purchases on Binance you need to register for an account and verify your identity (Personal Information, Proof of address, etc..)
If you are already registered on Binance, you can buy WAXP by using one of the following options:
After purchasing the desired amount of WAX cryptocurrency, you need to withdraw them from your Binance account into your personal WAX Wallet.
You do this by selecting "Withdraw Crypto" on Binance and it will look like this: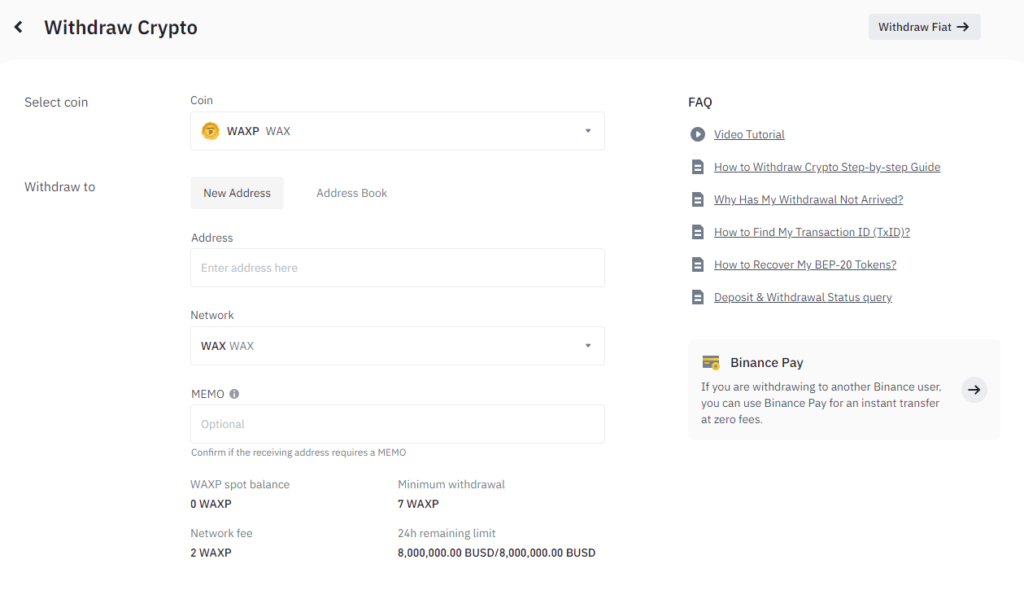 The address field is where you will have to type in your WAX Wallet-ID. It's recommended to double check the correct spelling.
When withdrawing from Binance to your Wax Wallet, there is currently no need for the Memo-field, you can use this just as a personal note. But you should always double check if a transaction requires a memo.
The minimum withdrawal amount is 7 WAXP and you have to pay a fee of 2 WAXP for the transaction. Within about 5 minutes the WAX currency should arrive within your wallet. Currently 1 WAXP =
---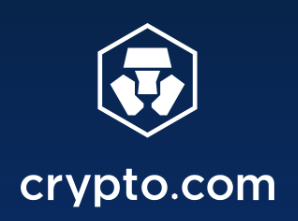 Buy WAXP on Crypto.com
If you prefer using the Crypto.com app you will have these options available:
Buy WAXP with your Credit-card.
Buy WAXP with crypto from your Crypto-Wallet
Buy WAXP using your Fia Wallet.
If you successfully purchased WAX you should navigate into the crypto.com Crypt Wallet and select WAX/WAXP from your available assets.
You will find the option to "Transfer". Select "Withdraw" and then "External Wallet". Before withdrawing you have to add your Wax Wallet address to your address book and give it a personal name. Please keep in mind that (due to security reasons) you have to wait 24 hours for withdrawals. Which means: you can not add your wallet address and withdraw immediately – only after 24hours.

On Crypto.com there is also no need for a memo, when you transfer to your orn WAX Wallet. You can just ignore this field and continue with the withdrawal. But you should always double check if a transaction requires a memo.
The withdrawal fee for WAXP on crypto.com is only 1 WAXP ()
---
Where else can I buy or trade WAX?
There are a lot of other gateways where you can trade currencies like USDT, BTC or ETH into WAXP.
The most popular are KuCoin, Gate.io, Huobi Global or Bitfinex. You can find a list of all the available trading-pairs and marketplaces on CoinMarketCap/WAX.