Time for another update to our Discord server in order to reward active community members (instead of bots or lurkers)

Some of you maybe already have already seen it by looking at the usernames and the member list on the right side.
We added new roles based on Karate belts: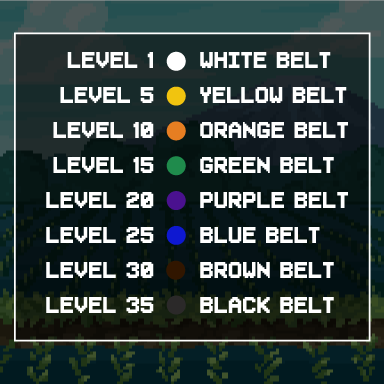 What are the benefits of a higher rank?
Giveaways, raffles, airdrops, special NFTs and other benefits based on the rank you have

For example there could be a giveaway of 1 Waxel Ninjas Collectible pack among all members that have at least the Yellow belt
Everyone that has the Purple belt could get a special NFT etc.

Being able to post links, Discord invites and use of Waxel bot commands outside the #showcase and #bot-commands channels
How to level up in Discord?
Very simple, you just need to communicate in our Discord channels
For every text you write, you will get some experience
You can check your current rank by typing "/rank" in the #????bot-commands channel
People that join the server will get the @Member role which is rank 0

After some messages you will get your first XP and rank up to White belt
PS: Don't start spamming just to get higher ranks – we know how to remove points 😉